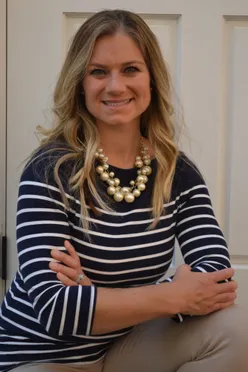 Dr. Jenifer Baum, (Dr. Baum), has been a resident of the Watertown area her entire life. She attended University Lake School (ULS) in Hartland, WI for middle school and high school, where she was involved in athletics and academia. Throughout her time at ULS, she played Field Hockey, participated in school plays and musicals and was involved in student government along with every other committee possible. Family and athletics are very important to Dr. Baum and she has focused her education and chiropractic career towards families and athletes.
After high school, Dr. Baum earned her Bachelor of Science in Kinesiology from the University of Minnesota Twin-Cities in Minneapolis, Minnesota. While attending the University of Minnesota, Dr. Baum worked in the student recreational center putting together wellness programs and various workout routines for the students and faculty of the school. This is where her true passion for exercise and nutrition began! After receiving her undergraduate degree, Dr. Baum worked for various wellness and insurance companies as a wellness coach advising patients on healthier lifestyles, including exercise programs, nutrition, stress management, tobacco cessation, just to name a few. After a few years in the working world, Dr. Baum felt the need for a more personalized holistic approach to patient care, which is what brought her to chiropractic school.
Dr. Baum packed her bags and moved to Davenport, IA to continue her education at Palmer College of Chiropractic. Here she earned her Doctorate of Chiropractic and was involved in multiple departments of the college. She received honors in academic excellence, patient care and assisted in the rehabilitation and therapy department. While in the rehabilitation department, Dr. Baum worked with other Chiropractors that specialized in sports rehabilitation and learned how to use instrument assisted soft tissue mobilization tools to help athletes and other individual's recovery from previous injuries. Dr. Baum brought these tools to Delafield Chiropractic to enhance patient care. Dr. Baum's Adjusting techniques include Gonstead, Diversified and Thompson (The Palmer Package) along with extremity adjusting (ankles, knees, wrist, arms, etc.)
Dr. Baum Recently received her Certification by the Academy Council of Chiropractic Pediatrics (CACCP) in the international Chiropractic Pediatric Association's (ICPA) renowned Certification Program. This certification enables Dr. Baum to expand her range of care to individuals throughout pregnancy and childhood with excellence and in accordance with evidence-informed practice. Dr. Baum is very passionate about pregnancy and pediatrics and women's health in general, which is what led her in the direction of completing this 200 hour curriculum to specialize in those areas.
When Dr. Baum is not seeing patients, she enjoys spending time with her Husband Craig, Daughter Isabella, Dog Kona and 2 cats, working out, volunteering, traveling, and going to sporting events. And of course the Packers are her favorite team!.
Dr. Baum is excited to return to the lake country area, to serve and contribute back to the strong and growing community!